I remember at some point in my childhood how I read choose your own adventure books and fail at them all the time. I was not able to finish even one. I mean successfully. At some point later I have forgotten about them ( As it happens with a lot of things.) until few years ago when mainly with the help of Sorcery by Steve Jackson(not to be mistaken with the designer of Munchkin) my interest in the genre was revived to such extends that I even tried to write two stories - one is still unfinished, the second was not liked by the publisher, but enough about me. Today I will tell you about my adventures in the Firetop Mountain which is also created by Steve Jackson (and Ian Livingstone). And no I am not starting to review books on the blog, Firetop has received its own digital port much in the spirit of Sorcery.
In this adventure you will brave the Firetop Mountain at the top of which powerful Warlock resides. Based on the character you choose at the start your mission in the mountain will be different but it will involve some interaction with the Warlock for sure.
Once Upon a time there was a Warlock...
TWoFM tells the story in the same original way Sorcery did - by small snippets of text which chain together after each of your choices. This time you also have a figurine of your character which wanders around while exploring the vast dungeons of the mountain. Essentially it is a tabletop RPG now.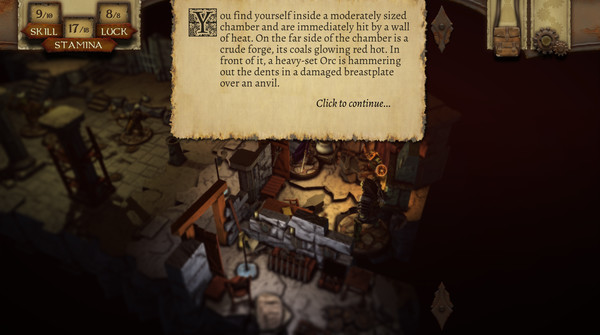 After I finished both Sorcery books I have given it to Mr. Jackson that he is a good writer and for this story he have worked with Ian Livingstone. That said there a lot of ways to ruin a good story when you make it into a game, this is not an example of one thankfully as the visual style and mechanics only complement the feeling of a tabletop game.
When you start the game you will have to choose between several characters which not only have different stats and abilities but also have their own distinctive backstory which will affect many of the encounters you have in your adventure. For example you might recognize a famous adventurer who has been locked in the mountain for long time and he will give you useful information or you might even find fans of yours among the goblins and orcs guarding the dungeon. Or you might smack the old men and kill all the greenskins...it all depends on who you are. The character you choose will also determine the objective you have. Giving such unique choices based on the character choice gives the game great amount of replayability ( as it did not have enough by the lone fact that it is a choose your own adventure )
Swords and Grids
There are more than few series in the choose your adventure genre and The Warlock of Firetop Mountain is proud representative of Fighting Fantasy therefore as the name suggests, there is a good amount of fighting in the game and I was curious how it is done and was half expecting the same "powerbluff" system as in Sorcery and I was kind of correct on the bluffing part. This time fights take place on a grid and each turn you and your enemies choose one action when both are done actions resolve simultaneously.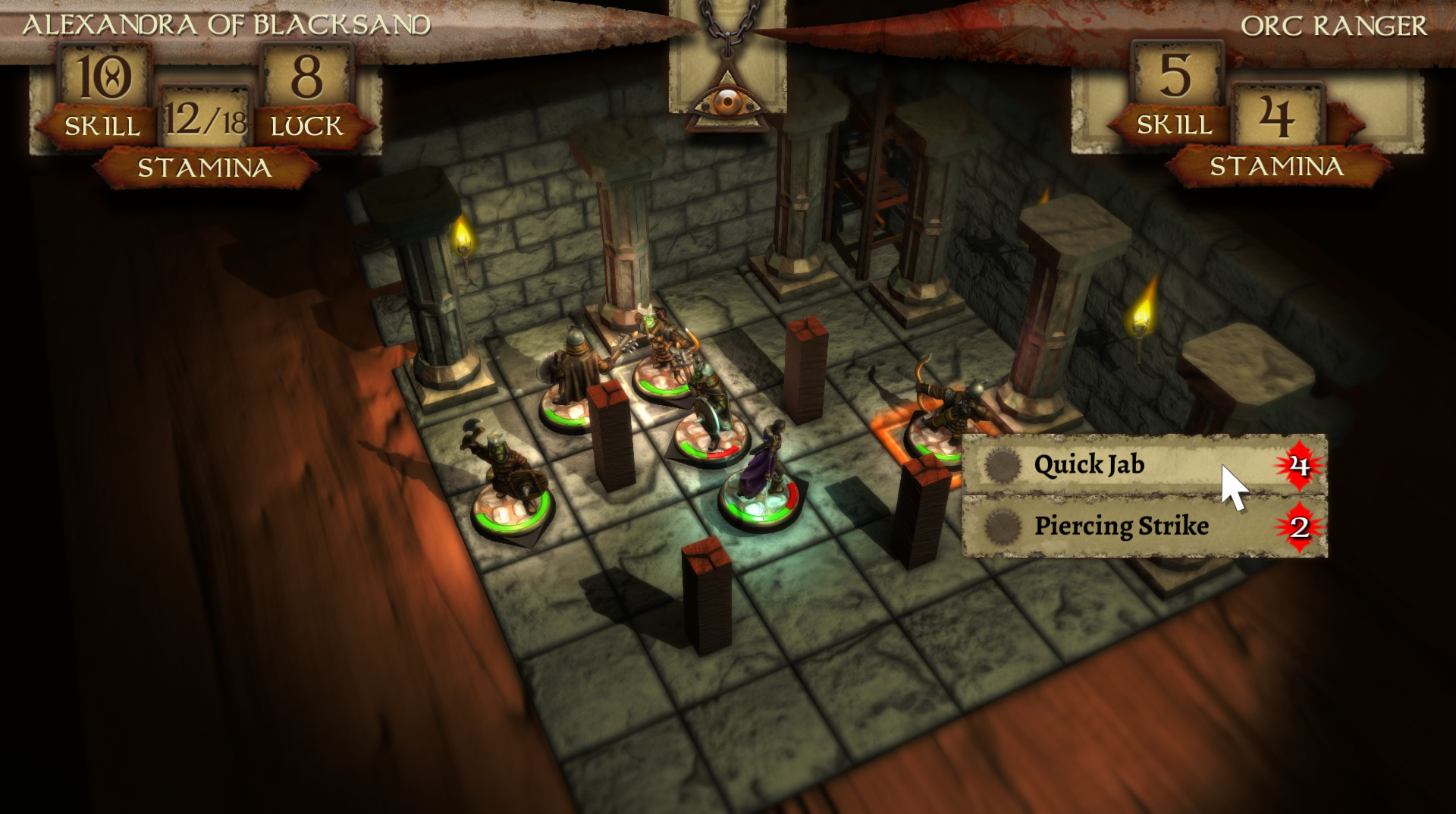 Tin Man Games have called it GridBluff system, but it is a lot like the action programming mechanic in board games. The name of the mechanic does not matter that much actually and what is important is that it makes the battles really strategic and often puts you in situations where you will think more than few minutes on what to do on your turn. Also with the ascension of the mountain you will encounter harder and harder enemies with intricate battle mechanics related to them. Giant statues will smash everything in front of them, stone palms will come to life and grab you from few squares distance and stone statues will push each other around making standing in front of them deadly.
Conclusion
If you have gotten this far you are probably already downloading the game. I mean Fighting Fantasy, Steve Jackson, Ian Livingstone, choose your own adventure, Tin Man Games...there is hardly a better combination you can wish for if you are a fan of tabletop and/or adventure books? But even if you are (still) not a fan but have wondered will you like such books the digital version of The Warlock of Firetop Mountain is good place to start as it has all the charms of the books and at the same time it comes powered up by digital technology which only adds to the experience and immersion. But the game has something to offer even to the experienced gamers as this version adds new characters, enemies and areas to explore. Must try!