I have always been afraid of deep waters. When someone mentions how deep is the Maraiana Trench the hair on my neck stands up. The lone thought of such depth terrifies me. And ABZU did not help me with this problem. It might even made it worse. But you have no idea what is ABZU, sorry. Come, let me show you.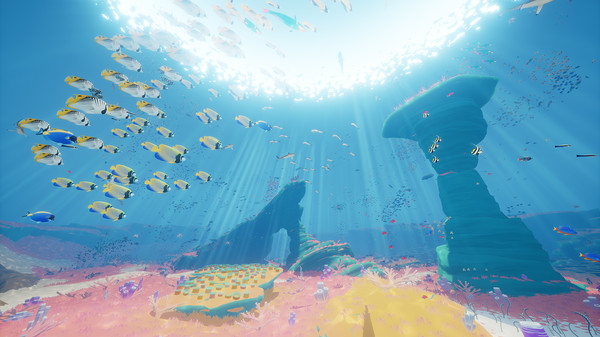 ABZU is "experience" a lot like Journey (after all it's from the same director), but underwater. Because of this here and now I will say THIS REVIEW CONTAINS SPOILERS!!!!!! Knowing that let us continue.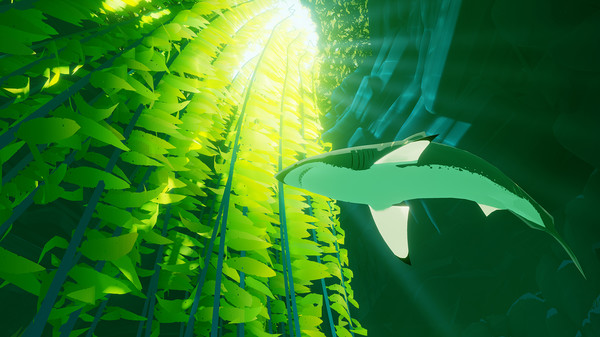 In the game you are scuba diver who awakes in the middle of the sea. There is only water around you. Water filled with life. If you are sea life enthusiast this is probably a game for you. You will see all kind of known, unknown and supposedly extinct sea life while you explore the vast seas of the world (which is probably Earth, bearing in mind that the animals you meet have earthly names).
But I derailed. What is ABZU about? That is for sure left for debate, but you will find two lost civilizations under the waters, both of which not in their prime, but with a lot of mystery surrounding them. Following a mysterious shark you will learn more and more about both, their clash and their differences and in the end you will stand against one of them. For good or for bad there are no choices in the game and while there are some puzzles they are more than trivial and will give you no problems. It is purely an experience in a world which you will have hard time to see otherwise.
Here I really want to tell you a lot about ABZU, share with you my thoughts about the story and what you will find under the sea, but all this will ruin your experience, so I will not do it. Here I can tell you how colorful and alive the world is, but I already said that. I can mention each specie you will meet, but that will tell you nothing about the game. Or go and talk how gracious you are, like a fish, but...I was not like that, mainly because the reversed controls.
So I will stop here and leave you to find out more about the world on your own. But before that...few downsides.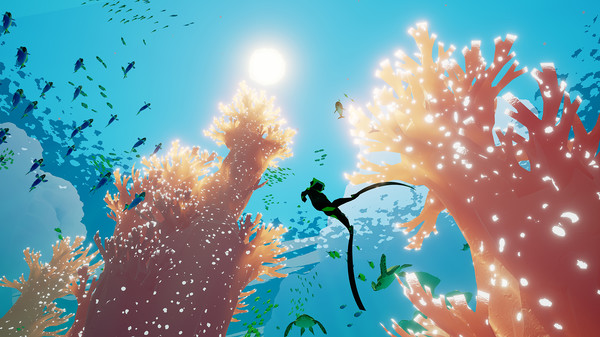 First is the Menu of the game. It's not only the fact that it lacks some general settings like details levels, controls or even volume options, but every change in it requires a restart. Imagine you have a weaker machine and you are tweaking the game so it can run smoothly on your computer. This will be like ten restarts. The other thing which annoyed me is the fact ABZU is not patched since release and it does need some tweaks here and there. Not to mention while it is a beautiful game it has a peculiar graphic style which did not made me think the game will feell so heavy on my machine.
ABZU is exploration "experience"-like game in which you will dive in a vibrant, full of life world accompanied by beautifully written music. There you will discover the mysteries of two ancient civilizations. I cannot say for sure is it at the level of Journey as I have never played it, but people say while it is good, it is not as good as Journey.
ABZU is a treasure if you are into scuba diving. You will swim along giant turtles, orca whales and even dinosaurs believed to be extinct for millions of years. The game has provocative story and ending, leaving a lot of space for pondering and discussion.
It is a beautiful game, but I am not sure you will be impressed by it if you have played Journey, so play this first.